Ladders en trappen zijn bedoeld om naar een ander niveau te gaan en niet bedoeld als werkplek. Het gebruik als werkplek is dan ook niet toegestaan wanneer een ander, veiliger arbeidsmiddel kan worden gebruikt. Werken op trappen en ladders is niet zonder risico, want er is sprake van valgevaar. Dit betekent dat er sprake is van een verhoogd risico dat zelfs fatale gevolgen kan hebben. Het valgevaar is bij een trap op ladder groter dan bij bijvoorbeeld een hoogwerker. Om te kunnen beoordelen of u dient te werken met een trap of ladder, kunt u onderstaand vragenschema gebruiken.
Komt er uit het schema dat het niet is toegestaan om met een trap of ladder te werken? Dan zijn de low level access hoogwerkers van mateco een ideale uitkomst! Deze wendbare machines zijn beschikbaar in een elektrische of handmatige variant, met een werkhoogte tot 5,66 meter. Doordat de low level access hoogwerkers zo licht zijn, zijn ze in allerlei situaties een goede en ook veiligere vervanging voor ladders of trappen.
Zodra u heeft bepaald of u gaat werken met de trap of ladder, kunt u bepaalde voorzorgsmaatregelen nemen om het valgevaar verder te verkleinen. Zo kunt u bijvoorbeeld gebruik maken van een laddermat. Deze mat voorkomt dat de onderkant van de ladder wegglijdt. Voor een opstelling voor een raam of gevelopening zijn aluminium en houten raamlatten verkrijgbaar waardoor de ladder tegen het kozijn rust.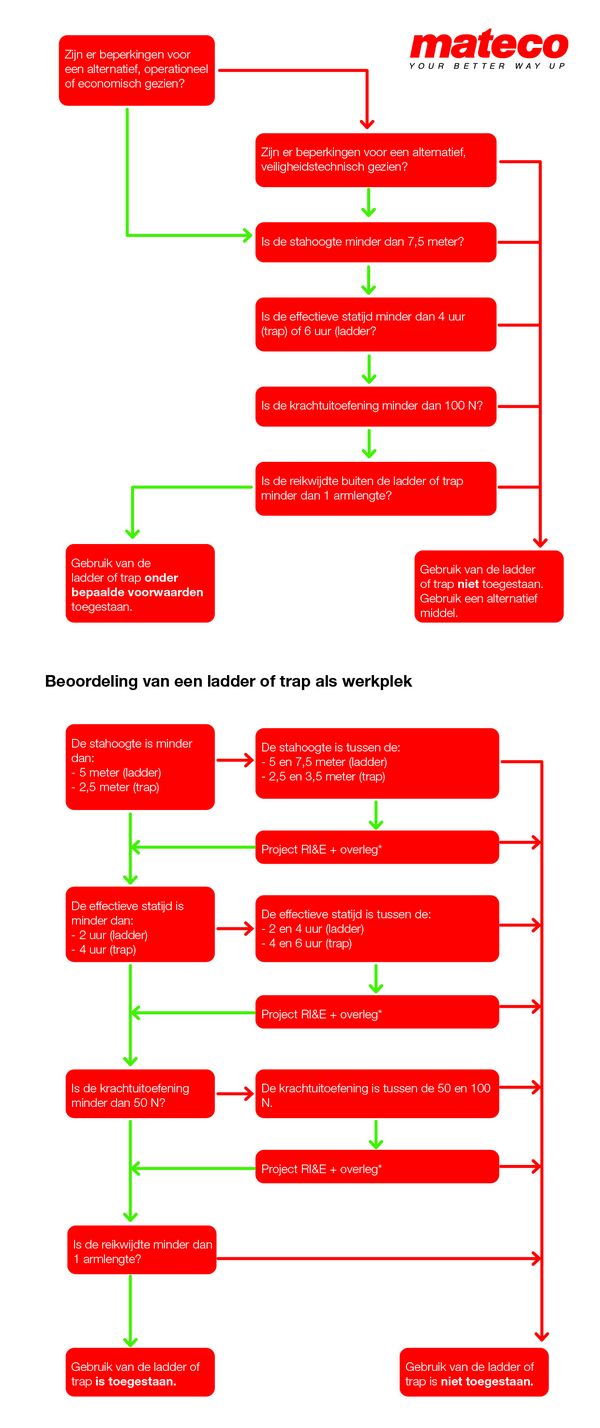 No comments