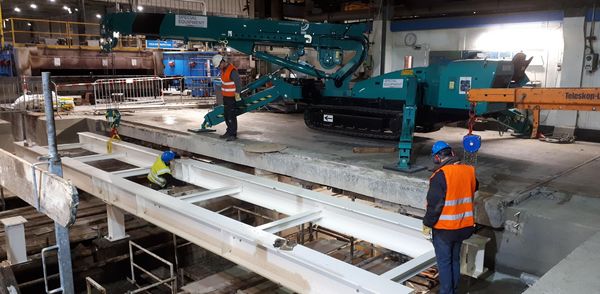 In our rental fleet we offer a number of mini crawler cranes. These lightweight machines can be used in many different situations, both outdoors and indoors. In our fleet you will find mini crawler cranes with a working height up to 19.60 meters and a lifting capacity of up to 8 tons.
The mini crawler cranes are versatile. Everything can be adjusted down to the last detail. This makes mini crawler cranes, for example, ideal for placing glass using the UPG 600 glass suction system. The main advantage of a mini crawler crane is that the arms can be stamped at different heights.
UPG 600
In terms of attachments for mini crawler cranes you have various options with us, including the UPG 600 glass suction system. This glass suction installation is attached to a searcher hook, which is delivered with the mini crawler cranes. The UPG 600 has four suction cups (expandable to 8) which can be mounted in different configurations so that panels of up to 600kg can be lifted. Because of this, the installation can be used on all kinds of different sizes of glass plates. The extensions can be mounted easily, quickly and without tools. The installation works with an electric vacuum system that runs on a built-in battery. The silicone-free suction cups leave no traces on the glass.
Our operators
An interview with one of our operators: Wilfred van den Berg.
What do you think of working with a mini crane?
Working with a mini crane is always a nice challenge. The spaces are often small and sometimes difficult to reach. As an all-round operator you operate a different machine every day. Sometimes it takes some getting used to when you go out again with a mini crane, but after a few minutes you know again how this specific crane works. The big plus is that you are always helping someone with a challenge or building or moving something. This does give you the kick and satisfaction when you have succeeded again. In addition, no two assignments are the same.
How do customers react to the machine?
Customers usually react positively to the mini cranes. It is and remains a nice piece of technology, especially the small MC285. One is usually surprised how much technology there is in a crane these days and that this is also processed in this small device. There are a lot of things you have to take into account with a mini crane. The outrigger width for example: this is not always variable with a mini crane, but sometimes a fixed fact.
Can you give some examples of situations where a mini crane was used?
Mostly a mini-crane is used for placing or replacing glass with a glass piston or for placing a steel H or I beam. Glass is difficult to place because you can hardly ever stand straight in front of the work. This makes it difficult to manoeuvre. Luckily we have been able to do every job so far!
Please contact us or use the Rental Assistant for more information.